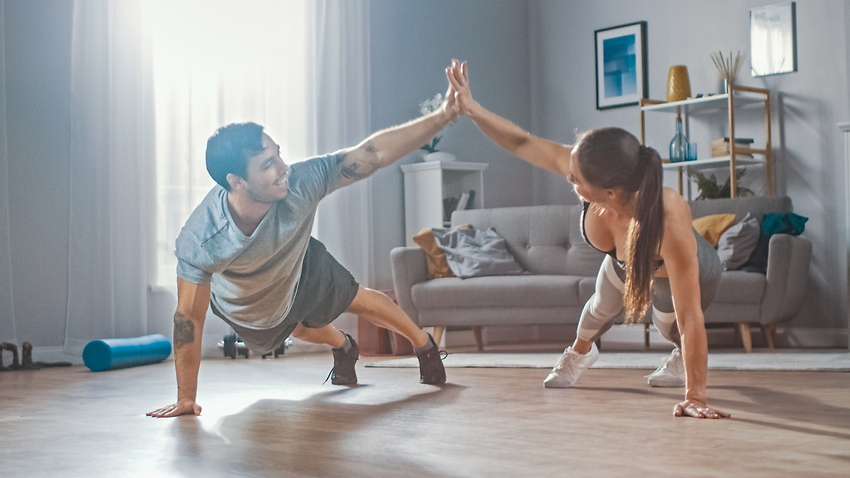 Sometimes you cannot go to a fitness club or gym to work out even if you would like to. This may be due to time constraints or the fact that all facilities are closed just as now during the Covid-19 crisis.
Fortunately, with some knowledge and imagination, you can get an effective workout at home, even without any exercise equipment. Some tips are to do own body weight exercises, use furniture as equipment (chairs, tables) and make your own home-made weights (with filled backpacks, plastic bags, water bottles). In the end, it is only your imagination that sets the boundaries.
Here you have a home training program, designed by the teachers at IPTA and with illustrations from Exorlive. Try it out the for your next next workout!
About the program
The program is a basic strength training program with seven exercises for the whole body. The exercises are simple but suitable for both trained individuals and beginners.
You can adapt the exercises to your own fitness level and either make them heavier and more demanding (so-called progression) or easier (so-called regression). You will receive tips on modifications or alternatives to each exercise so that you can customize them according to your specific requirements.
Start by warming up for about 5 -10 minutes before each workout. Perform 3 sets of each exercise with 60 - 90 seconds of rest between sets. Alternatively, you can do two exercises in a row and then rest (a "superset"), if you want to be time efficient. The number of repetitions should preferably be between 10-15 (choose the difficulty of the exercises having this in mind)